To watch the full video and get access to all previous videos and resources join my Marketing Club - Get free access for 30 days
Ben is joined by Kyla (Copy Café) to discuss the importance of good copy and how writing with personality can affect your brand.
(more…)
Clare Harris
April 8, 2022
Catherine Every shares her step-by-step process on how to write good web copy. Her presentation touches on how to decide on the structure of your website, how to research keywords and guidance on how to write great copy for your website.
We like working with Catherine on web projects as she understands how good copy can engage a reader and stimulate them into action.
(more…)
Clare Harris
April 1, 2022
Ben shares his method for developing a blog and content strategy which will help get your business found online.
(more…)
Clare Harris
February 16, 2021
Ben is joined by guest Copywriter, Catherine Every (Hello Pippin) to discuss how to review your blog to find the best-performing articles and which ones need cutting away.
Notes
Guest Copywriter, Catherine Every (Hello Pippin)
What is a blog review and why do we do one?
Remove thin content / consolidate articles
Aim: to focuson content quality, improve search visibility, build traffic
Casestudy
Communion Architects www. communionarchitects.com
They have built up a lot of posts over 8 years some with good traffic but could be improved.
Collecting the data
Collect data over a full two year period
Export article pages from WordPress
Marry up article pages, GA, GSC data into Google sheet Compare which pages most visited from search
Find low performing pages and review
Blog Review
Start with the low performers (<10 visits)
Then tackle pages with >50 unique visits
Make notes on pages actions to take
Review Process
September 2019 and January 2020
Review all posts, make notes
Start with the easy stuff: delete or fix broken links, images
Combine posts: Read, outline new content, collate, rewrite
Review in a day or with Alex (client)
Key challenges
Review Checklist
Can content be deleted and redirected?
Can content be merged with other articles?
Should the article be split up and extended?
Can URL, title be improved? Keywords added
Can content be improved
Is it in the correct category?
Any missing images or broken links?
Can any relevant images or videos be added?
Does it have a link to a landing page?
Are there any content gaps?
Tidying Up
Site audit to make sure everything works
All deleted posts are redirected to new ones
All internal links point to new articles
Note content ideas for future articles
Be careful not to change URLs for key pages
---
Clare Harris
September 15, 2020
Developing a blog content strategy to get found online.
Notes
What is a blog?
A page on your website that is updated regularly Company News
Helpful information
"Your business diary"
What is a blog for?
Insight into your business Passive helpdesk Credibility / Influence Search optimisation
Why should we write one?
Get more leads
Educate our customers
Improve SEO to key product pages
Support sales / tech support
Who will read it?
Who you are writing for?
Think of your best customers
Pay well, friendly, good referrers
Understand what they like
Three types of content
Helpful – long lasting and specific
Topical – relevant but short lived
Product (or service) – sales content
Content type examples
Helpful (about them)
How to file VAT return
How to plan your business cashflow
How should I price my services?
Topical (about them)
What does Auto Enrolment mean for me?
What is IR35 and how will I know if it affects me?
Product (about you)
Do I need an accountant?
Benefits of cloud accounting with Xero
Topic ideas
Questions that clients ask Hints and tips
How to
Clever ideas
Insider info / secrets
What makes you different?
Something you want to learn or be better at
Use answerthepublic.com to get topic ideas
Content checklist
Is it based around a relevant topic?
Am I adding value?
Do people desire to see it?
Will they share it?
Focus keywords and SEO
Build a keyword list
Use Google Trends for simple comparison or Google Keyword Planner for detail
Add keywords to the blog title and copy
(most important areas of on page SEO)
Title
URL
Heading 1
Keyword research
Use Yoast SEO WordPress Plugin in WordPress to edit on page SEO
Blog styles
Example style and formats
daringfireball.net (simple design, linear format)
loudandclearaccounting.co.uk/blog (linear format with images)
ratherinventive.com/blog/ (blogs in two columns)
hellopippin.co.uk/copywriting-blog/ (main/popular blogs high-lighted)
communionarchitects.com/articles/ (broken into categories with popular blogs)
Writing tips
Allocate time
Create a regular event in your diary
Find a place that removes distractions
Make a routine, start small
Keep it focused
Write for your audience
Write the snippet first
Read around the subject

Ask for action
Email signup
Find out more
Buy related product
Get in contact for help
Images and video
Increases page views
Helps people scan content
More visible in a social feeds
People more likely to read
(Make sure you check the image license, can you use it for business?)
pexels.com / pixabay.com (free image library)
giphy.com (animated images, mainly silly)
selmach.com/news/going-the-extra…tooling/ (example of video in post)
Subscribe on YouTube, Apple Podcasts or Android.
Ben visits Sarah in her home office to talk about why she wrote an Environmental policy as a solo worker and freelancer and her forthcoming book 'Survival Skills for Freelancers (or how to go solo without going loco).'
Sponsors for this episode:
34SP.com – A Fast, Secure and Managed WordPress host based in the UK. Visit 34sp.com and use the code WPINVENTIVE at checkout to get your first three months of hosting completely free.
BombBomb.com – A simple way to create and send personal video by email. Visit vid.us/somethinginventive to get 10 video examples from real users.
(more…)
Louise Kinnaird
December 20, 2019
Are you annoyed when you see a glaring error in an email, newsletter or any other correspondence? You'd be surprised how many people take exception to a technical booboo. There are too many social media groups dedicated to this little life annoyance for it to be insignificant. But for some people – particularly those who don't deal with words and punctuation every single day – these things are just not relevant. They should be.
(more…)
Clare Harris
July 11, 2019
Subscribe on YouTube, Apple Podcasts or Android.
In this episode Ben is joined by Tess Coughlan-Allen, Marketing Manager at Mind Doodle to talk about content planning, mind mapping and minidoodle.com.
The sponsor for this episode is Inventive People. Get 20% off first order with the code INVENTIVEPODCAST.
(more…)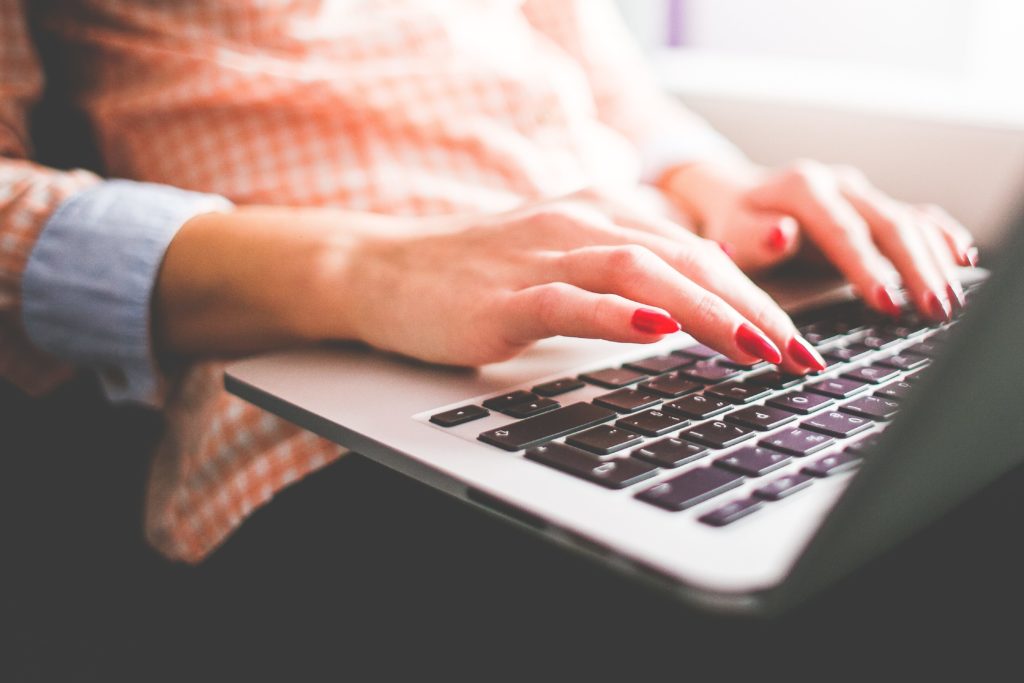 How can you compete with the online market but still provide a personal service? Despite being seen as old hat; regular, relevant blogging can perform well for you.
As we strive for faster, better connected, portable technology the world of business is rapidly changing and more of us are dipping online for our every purchase. Organisations are losing the ability to meet customers face to face to build genuine rapport, to create a memorable service and add that personal touch. Yet, it might surprise you to know that many of us still seek friendly, personable approach from the platform of our online avatars.
Here are three ways blogging could help your business:
1. You build trust with your customers
Whether it's an informative article or a more informal account of what is happening in your business. The more information you share online through articles on your site, the more this will help capture your audience. By writing and sharing something of true value you are instinctively building trust with your customer by proving that you know what you are talking about. You could even start a conversation with your customers by asking your readers a question or by simply allowing them to feedback and comment on your posts. Allowing you to build a rapport and gain valuable feedback and an insight into what your customers are looking for.
2. You can become an industry leader in your business
Informative and educational articles are where you will capture today's audience. If we want to know something we ask Google, from 'how to fix our washing machine' to learning how to perfect a certain recipe in a matter of seconds. By sharing helpful tips and tricks, insider knowledge will make you more memorable and possibly prompt a return visit or even a recommendation. In taking the time to share this information your business will gain more credibility when you are competing against the bigger more corporate businesses.
3. It can boost your SERP (Search Engine Ranking Position)
Uploading regular, valuable content to your website will also help boost your website up the Google ranks. Search engines favour sites with fresh, relevant content as it increases the amount of time that is spent on the site, reduces the bounce rate and increases the number of pages visited per session. What better way to create regular content than blogging. It provides new content for the search engines to index whilst providing those all-important keywords to increase your visibility online. Don't forget all of the content you are gathering could be translated into a video at a later date!
Not sure where to start and need some inspiration for own blog?
If you love the idea of a blog but don't feel confident in your writing skills – or simply don't have time – then you should consider whether a professional writer can take the stress away and help keep you on top of your content schedule.
Our Rather Inventive copywriters have worked in a range of different industries and sectors, such as interiors, education and engineering and they regularly deliver unique and relevant content suitable for each of our customer's markets.
Here's are a few of our clients who use blog articles as a key element of their marketing:
Building relationships with your customers can only lead to success, so it's worthing investing in.
Image courtesy of Pexels
Clare Harris
June 26, 2018
It is easy to get bogged down into the constant struggle of reeling in profitable business. And in a tight economy, it's understandable why we might tighten our belt and trim off the frills. But it's worth remembering that marketing is one of the key strategies for getting in that new business and building the foundations for eventual sales.
Obviously you need to be sensible, so think about your evergreen marketing; by evergreen marketing I am talking about a marketing idea or concept that will last beyond the next couple of hours, weeks or even years, perennially providing you with new strands of business.
The top four evergreen strategies I would recommend investing in are:
Video
One of the top marketing tools to give your customers value or deliver a personal touch, I cannot express how much I value video. Working around the clock on platforms like Vimeo, YouTube you are able to hook business from worldwide markets.
Whether it is a how to guide, vlog, casestudy, testimonial or product overview it will certainly benefit your business. It doesn't have to be overly complicated, less is always more and you may even be surprised at how affordable it is.
If you don't have the capacity to create a short video, think about making a slideshow animation from images or using animated GIFS to help catch your audience's eye.
Website Facelift
In a world of instant gratification and with many of us carrying a computer in our pockets it seems ludicrous if you do not have an online presence. A handful of pages is better than nothing. The absolute basics should be a clear message about who you are, what you can deliver and how to get in touch with you. This is often the first glimpse into your business so make the effort and make sure it gives a professional vibe.
With current online web design sites such as Squarespace or WordPress their really is no excuse. Even hiring a professional web designer is a reasonable cost for most busineses. Giving your site a facelift does not have to be expensive and often needs just a review of the text, images and search optimisation.
Don't have a website? At the very least make sure you have an online presence using a Facebook Business page or Google My Business profile. How else will your customer's find you?
Blogging
Informative and educational articles is where you will capture today's audience. If we want to know something we ask Google.. delving into a world where at a click of a button we can find out how to fix our washing machine or learn how to perfect a certain recipe.
Whether it's an informative article or a more informal account of what is happening in your business. The more information you share online through articles on your site, the more this will help capture your audience. By writing and sharing something of true value you are instinctively building trust with your customer by proving that you know what you are talking about. Sharing helpful tips and tricks will make you more memorable and possibly prompt a return visit or even a recommendation.
It will also help boost your website up the Google ranks as the search engine robots favour sites with quality and relavent content as it increases the amount of time that is spent on the site, reduces the bounce rate and increases the number of pages visited per session.
Don't forget all of the content you are gathering could be translated into a video at a later date!
Case studies
You can huff and puff until the cows go home but nobody can sell your business more than your previous clients. When investing in a new venture or purchase the majority of people these days will search online and read the reviews to help them determine which company they would like to go with. If you are good at what you do, be open. Contact your previous customers and ask them if they would mind giving you a review or sharing some feedback. You never know you might find that you learn something from the feedback which could streamline your business further. Whether it is a short statement, written or filmed interview it will add an extra layer of authenticity whilst reminding them that you still exist and could even prompt further work.
It is important to be careful about what you invest in but don't be afraid to invest in marketing ideas that are fun or novel as often that is the stuff that hooks in your audience. We are all bored and numb to so many of the mainstream marketing campaigns so think of how you can be different and about what your customers would find helpful.
Image credit: Adrenalin by Artem Bali from Pexels
Louise Kinnaird
November 9, 2016
Following on from Helen's blog post last month about ROAM (Readers, Objective, Action, iMpression) and writing for business, I would like to expand a little on what it takes to get readers to take action.
Words win customers
Imagine sitting down to read some promising online content and you start to nod off, bored with the lack of vivacity in the corporate waffle you are being offered. Chances are you won't buy what they're selling. Am I right?
As a business owner you are concerned with selling your product or service. In order to be able to do this effectively you'll need words. Good words. Because words win readers, and readers are potential customers only if you can interest and tempt them. Your words should make readers feel something, and make them act on those feelings. Use the wrong words and you will put off your readers from becoming customers.
The wrong words
If you put too little effort in, or if it's clear that you have no skill with words (in which case what else do you have no skill in, your business perhaps?) then your best customers are going to walk. Perhaps they'll walk to a business who talks a good talk, who won't come across as pushy and who can appeal to the reader's emotions (without them actually realising it). These are the businesses who are more likely to gain readers, and therefore customers.
You love your business, you don't necessarily love words
OK, so you may be able to put words on the screen. Indeed, you may be as poetic as Bob Dylan, but can you write to sell?
You might know your business inside out and back to front, but do you know how to sell your beloved business using only words? (and no, superlatives like 'fantastic' and 'amazing' do not cut it). It's not as easy as you might think. It takes a lot of practice.
What your words should do
To be effective in gaining interest from potential clients your words need to do the following;
Hit your target audience – if you try to appeal to everyone then no-one will read, let alone respond or buy
Engage on an emotional level – it is appealing to the emotions of potential customers that gets the sales, not lists of benefits or products
Perfectly capture your company, its principles and its ethos
Make the words exciting and engaging, even for the driest subject
Be aware of trends to keep your content fresh
If you can do all of these things, then I apologise for wasting your time. If not, please understand that good sales rely on good copy, and good copy requires skill. It is not simply a matter of putting words on a screen. These days, with so many companies in your field competing for eye time on the web, your copy must stand out. Make sure you are – or have at your disposal – the right person to create that copy.
—
Photo credit: Stefan Zdzialek, Kuba sleeping on keyboard
Helen Crease
October 11, 2016
My writing has been through a series of evolutions. During my A-Levels, I took pride in my ability to write thousands of periphrastic, prosaic paragraphs for English Literature essays, using a vocabularly that, most of which, I now wouldn't know the meaning of. I was also a sucker for alliteration.
Then I started working in TV and I was devastated when a senior Commissioning Editor criticised my writing for being 'far too floral'; I was urged to do away with the hyperbole of my youth and to become much more 'tabloid'.
Now, as a Social Media Manager, I struggle to produce anything engaging that's longer than 140 characters; in fact, my writing life has become one big #acronym!
Writing for business is different yet again. The objective in business writing should always be to create a change in the reader; either to change a reader's attitude or to encourage a different behaviour.
A tool I come back to time and again when I have to write business articles is Josh Bernoff's R.O.A.M.  Bernoff, if you haven't heard of him, is the author of 'Writing Without Bullshit'. Grabbed by this brilliant book title, I discovered Josh's podcasts and blog, which is where I came across the concept of ROAM. Before you attempt any business-related article, Josh insists that the author spends time thinking about the following:
Readers: Who is the audience?
Objective: What are you trying to do?
Action: What do you want the reader to do?
iMpression: What will the reader think of you?
To give you an insight in to my practise, for example, here's how I started this blog post:
Readers: People who have an interest in marketing, business, creativity or all three.
Objective: To share with my readers some useful tips on how to write concisely for business.
Action:  I want my readers to learn more about honing their writing skills, hire Rather Inventive to help them or Find the information so useful they want to sign up to more emails in the box below…
iMpression: I'd like my readers to think that ratherinventive.com is a truly brilliant oracle of information relating to marketing, business and creativity (which it is, of course!).
Follow this link to find out more about ROAM.
And as a nice little Brucie Bonus, feast your eyes on this infographic: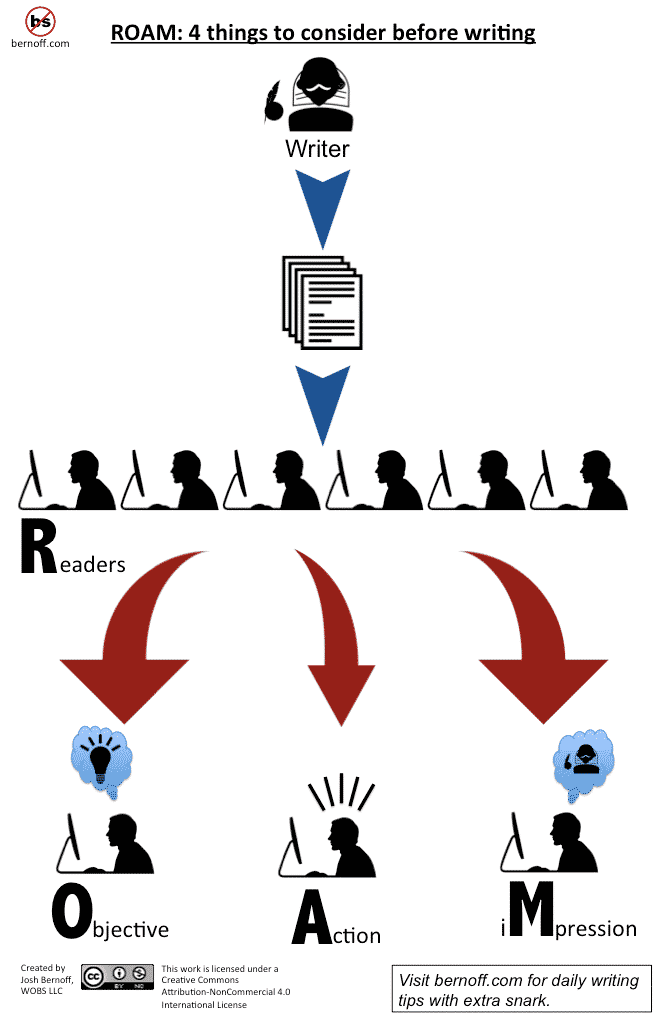 Infographic taken from bernoff.com – Photo credit: Ak~1 – Typewriter.
catherineevery
January 18, 2012
Most people turn to a web designer when they need a new  website because they know that making a good first impression is vital. But people  use the content to decide whether or not to buy, so it's vital that it's as  professional as the design.
If you're thinking about writing your website content  yourself, here are five reasons why you should consider hiring a web copywriter  instead.
A web copywriter will save you time. If you're  busy or you simply don't like writing, you'll never find the time to write and  your website will never be finished. Brief a web copywriter and they'll do the  hard work for you.
A web copywriter will save you money. If you're  writing content, you're not doing business and you're not making money. Give  the job to a copywriter. Then they can do their job – and you can do yours.
A web copywriter will have a fresh perspective.  You know your business inside out. Is there a risk you'll use jargon or  structure the website in a way that only an insider will understand? The  chances are your customers aren't experts in your business. A web copywriter  will make sure that your business is understandable to everyone, not just those  in-the-know.
A web copywriter is an expert in writing for the  web. Writing for the web is different to writing for print. A web copywriter  knows how to make copy work on screen. (See Top Tips  for Web Copywriting for a few hints).
A web copywriter understands search engine  optimisation. Your content might be fantastic. But unless it's been optimised,  there's a risk no one will ever see it. A web copywriter understands how search  engines work and how to maximise the chances of your website being found. (See Choosing  Keywords for SEO for an introduction to this area.)
So there you go, five reasons to use a web copywriter. I  hope they've convinced you to consider one for your website project.
catherineevery
August 31, 2011
Writing for websites is different to writing for paper-based  media, so if you're new to it all, these pointers might help.
The first thing to remember is: reading on screen is hard!
It's a lot harder than reading on the page. Think about the  way you surf the web – you probably skim-read, trying to get to the information you need as quickly as you can – it's because it's so much harder to read on screen that you're doing that.
Remember that your readers are just the same as you. So it's  important to do what you can to help them find the information they want – and make it appealing and easy for them to carry on exploring.
Keep things simple
There are some things you can do from a technical  perspective to make your web copy easy to read:
keep sentences short
keep paragraphs short
use bulleted lists where you can
use informative headings to break up the copy  and allow people to jump to the information they want
better still, if a page is going on too long,  break the information up into separate pages so people aren't intimidated by loads of scrolling text.
(Try this: go to the BBC News website. Pick a story and read  it through. Notice how easy to read and understand it is. Now print it out and  read it again. Suddenly, the sentences seem short – almost too short. That's  the difference between reading on-screen and on the page.)
Write for your audience
Keep the reader in mind while you're writing. Ask yourself  "what do readers want/need to know?" not "what do we want to tell them?" and remember that while you're writing.
Try to write as if you're talking to one person not making a  presentation to hundreds – this will help to keep you focussed on giving  readers what they need – and keep your style friendly and personal.
Keeping people engaged with your website is one thing. Getting them there in the first place is quite another. That's where keywords come in, read our post on how to choose the right keywords for if you need help on this.