Marketing Strategy: Foundation Level
This strategy will provide you with marketing resources, advice and guidelines in a simple, step by step process.
Most tasks include examples, downloads or the steps needed to complete them as well as insightful interviews with leading entrepreneurs and fascinating blog articles to expand your knowledge.
Jump to a specific category:
---
Marketing
Write down three things you'd like your business to achieve over the next 12 months
"Setting goals is the first step in turning the invisible into the visible." Tony Robbins
Think about what you want to achieve in work, with family/friends or on personal projects.
Be specific and make them achievable.
Take each objective and note down how you'll achieve them
Write down how you might achieve each of the objectives you just set for yourself, break them down into tasks.
Try writing your company strap line in 20 words
Describe what your company does in no more than twenty words, this will be used as your elevator pitch.
Describe your ideal customer in 5 words
Brainstorm about your ideal customer, write down some of the things that identify them, and don't forget to have fun!
Know how many website visitors you need to meet your objectives
Think about how many visitors you need to get the amount of leads, sales or calls you want every month.
If you are not sure what how many visitors that is, try averaging the last three months of website visits and then add 30% to give you something to aim for.
Listen to how Gina Geoghegan started her drinks business Wild Fizz Kombucha
In this interview with Gina we find out about her company Wild Fizz Kombucha and how she got started. Gina's story and openness on her business are well worth listening to.
Related link: Gina's website
Sign up to my Marketing Club
If you'd like the latest tips, advice and opinions on marketing you should join my Marketing Club. It contains links to our latest marketing posts, podcast episodes and articles from other sites that caught my eye – Use the link below to sign up.
As bonus you'll also receive a free copy of Be Sociable our book full of social media tips and strategy.
Related link: Newsletter signup form
---
Analytics
Set up a Google account for your marketing
Sign up for a Google account (unless you already have one) that you can use for Google services and other marketing tools.
If you're stuck for a name just use your full business name e.g. mycompanyname@gmail.com as the account name and email address rather than an individuals name as people come and go from a business.
Related link: Create your Google Account
Set up a Google Analytics profile for your website
Set up Google Analytics and add the tracking code to your website or ask your developer to do this.
Related link: Analytics setup guide
Read my beginners guide to Google analytics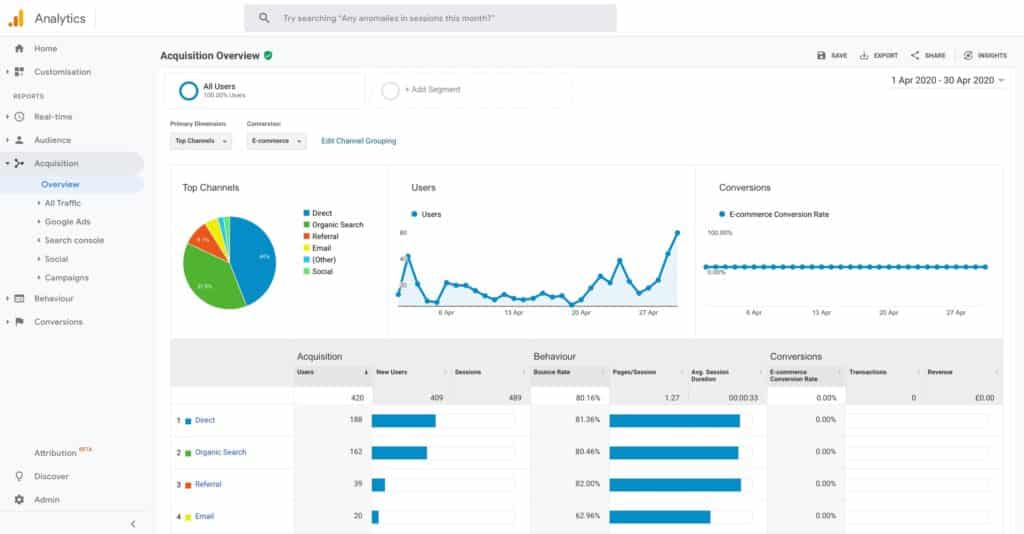 Read my Google Analytics guide for a short overview of why it's is so useful to help get more visitors and improve sales conversions.
Related link: Guide to using Google Analytics
Install a Marketing Dashboard
Make a dashboard in Google Analytics to show the data you want to check regularly.
Related link: How to Create a Custom Dashboard in Analytics
Set up a monthly Google Analytics email report
Set up your dashboard to send you a report each month to review this data.
Related link: https://support.google.com/analytics/answer/1038573?hl=en-GB
Add and verify your website on Google's Search Console

Google Search Console (GSC) is a fab tool to find out what keywords your website is being found for or if there are any missing pages or other problems with tour site.
Sign up for GSC and add your website (also known as a property within GSC). When adding a new property you will be asked to verify ownership of your domain by adding a code to your Domain Name System (DNS) records. This is the best option
However if adding code to your domain is beyond you right now choose to verify using the URL prefix and select Google Analytics as a verification option.
Related link: https://www.google.com/webmasters/
Link Google Search Console to Google Analytics
Link your new Google Search Console account with your Google Analytics account to view see the keywords people use to find your site and what pages they land on, direclty within Analytics.
Related link: Access Search Console data in Google Analytics
Check you have a Google friendly site
Read the advice in Google's Search Console to help make your website visitor friendly and Google-friendly.
Related link: https://support.google.com/webmasters/answer/40349?hl=en
Promoted: Get an expert to help optimise your website
---
Website
Grade your website performance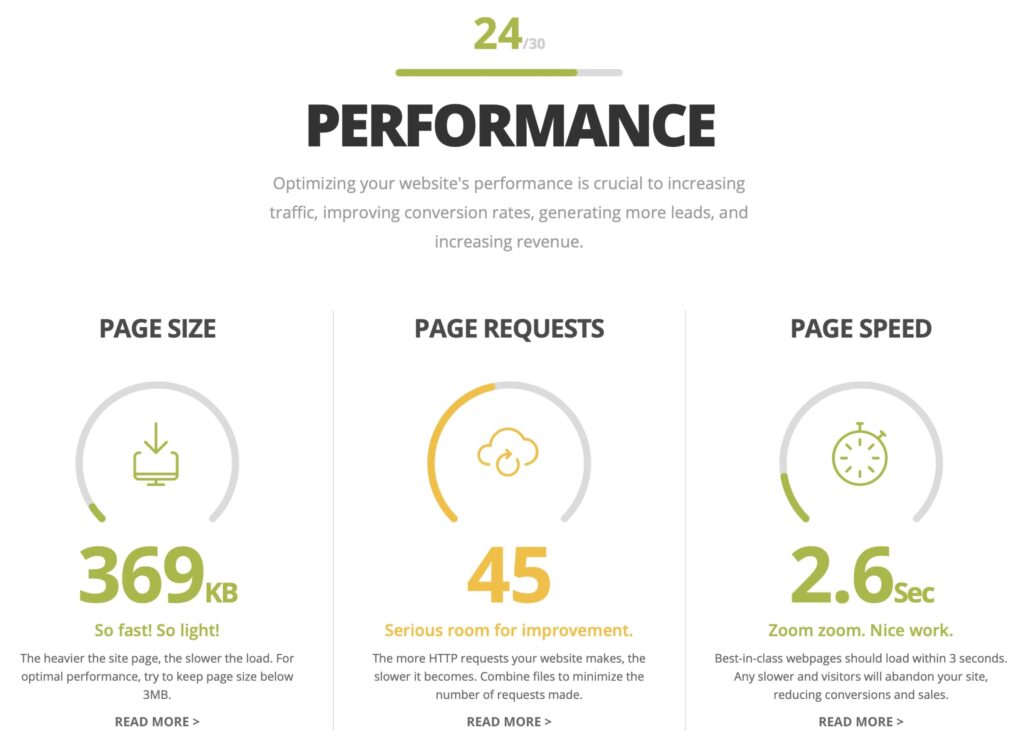 Grade your website with this online marketing tool from HubSpot, then scroll through the results and fix any areas of concern.
The tool analysis your website speed, image size and whether it's optimised for a mobile device amongst many other areas and also gives you actionable advice.
Related link: https://marketing.grader.com
Promoted: Get a pro to implement these website updates for you
Make a backup of your website
Before you make any changes to the website it's worth creating a backup of the files and database just in case things go wrong.
Check if your hosting provider has a back service in place already. Some website hosts like 34SP.com have a snapshot feature that instantly creates a copy of your site that you can download to your computer or push back to be the live site should the worst happen.
Related link: How to backup a WordPress website
Check that your website loads within two seconds
Use online tools like Pingdom to test your website page load time and save/print the outcome for your developer.
What if my site doesn't load quickly?
Luckily there are a few things you can do
Compress your images. Bloated images are the biggest culprit to slow loading websites.
Remove unused WordPress plugins. Removing plugins that are no longer in use can often make a dramatic difference to the speed of your website.
Cache often visited pages. Pre-loading, or caching, your website pages can save visitors many seconds when waiting for you page to load.
For more information read our article How to speed up your WordPress website.
Related link: Pingdom Website Speed Test
Check home page title and description are eye catching and interesting
You want your site to stand out from the other listings in Google search by using relavent keywords that people are looking for in your title
But that's not enough. You also need to encourage people to click through to your page by explaining how the age will help them in the description.
While you at it make sure none of the title text is being cut off. The title tag should be around 50 characters and the meta description text around 150 characters in length.
Related link: Title tag best practice
Check your website has no page errors
Use the Google Search Console to check the website for URL Errors and then get your web developer to fix them.
Related link: Sign in to Search Console
Make sure that your contact details are easily found
Check that your website has the correct business contact details and that they are easy to find for new users.
Check your company registration address and number are on your website
Ensure that you comply with the legal requirements for a registered business in the UK and e-commerce distance selling rules.
Related link: The UK's E-Commerce Regulations
Update your website content manager and any plugins to the latest version
Make sure your website content manager is up-to-date or ask your web developer to do so.
Related link: Updating WordPress
Add a cookie policy to your website
Read and act on the advice on the Information Commisioners Office website regarding cookies.
Related link: https://ico.org.uk/for-organisations/guide-to-pecr/cookies-and-similar-technologies/
---
SEO / Content
Understand what keywords are
Learn about keywords, key phrases and why they are essential for SEO. Here's an extract about keywords from Yell.
When someone uses a search engine, they type in one or more words describing what they are looking for: 'Norwich florist' or 'cheap holidays Greece', for example. These words or phrases are known as keyword

So if you are building a business website, you want to ensure that when customers search for relevant keywords, your website appears as early as possible in the list of results.
Related link: Keywords and why they are important for SEO
Choose a primary keyword that defines your company, service or products
List keywords and key phrases you think your customers use to find you and then choose primary keywords.
Promoted: Get expert help with your keyword research
Localise your primary keyword
If your business relies on local trade, add your location to your list of potential keywords. e.g. Electrician Gloucester
Research your primary keyword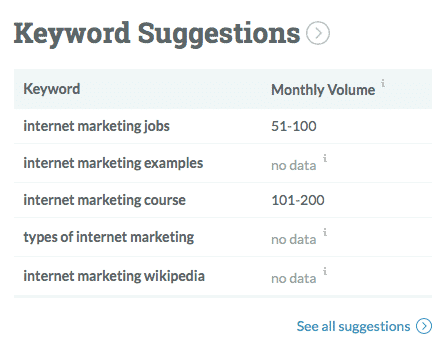 Use the Moz Keyword Explorer to check how often the primary keywords you have chosen are searched for or to find alternative keywords that might be a better fit.
Related link: Moz Keyword Explorer
Find out the Google position for your primary keyword
Use Google Search Console to check the average position in Google search results.
In Performance Click '+ New' and select Query
In the popup type in the keyword you want to track
Related link: Google Search Console
Add your primary keyword to your website home page
You can get most SEO benefit by adding the primary keywords to the meta title tag and page title (usually a H1 tag) to the home page of your site.
For example the keyword 'bespoke kitchens bath' could appear in the meta title and page title as 'Bespoke Kitchens in Bath'.
If you have more than one primary keyword such as 'wall tiles', 'floor tiles' and 'bathroom tiles' then each of these keywords could be added to their respective page on the website.
In WordPress
We recommend using a plugin called Yoast SEO. Once installed you can navigate to your home page and within the 'Yoast SEO' panel edit the text in the 'SEO Title:' box.
The page title might be in a few different places but commonly it's at the top just under 'Edit Page'.
In HTML
To edit the meta title file search for the text <title> and change the text that follows it. The tag will end with the text </title> which you must leave in place.
For example
For the page title the same process applies but you are looking for the text <h1>.
Related link: Yoast SEO
Listen to how Matt Watson uses content marketing in his business Stackify
Matt Watson has been an entrepreneur since he can remember, selling his first business at 29 for over 140 Million dollars. He now runs Stackify and Fullscale.io, as well as few other side projects.
In this interview he shares some of his challenges in building the businesses and how marketing played its role.
Related link: Matt's website
---
Social Media
Set up a personal LinkedIn profile
Set up a Linkedin account and add your headline, photo and summary. Read the wikihow article if you need advice.
Personalise the URL
Use relevant keywords to help get found on LinkedIn or Google for your niche. For example 'https://www.linkedin.com/in/benkinnaird-marketing-expert/'
Your professional headline
Try to write your bio in terms of how you help people. For example 'We help business owners get better leads and more conversions'.
Profile photo
Have a recent picture that resembles you. Choose one where you are smiling, look approachable and is not too dark.
You could also add simple banner image with you contact number/email in so people can get hold of your easily.
Summary
Expand on your professional headline. Give a brief overview on how you helps people and what experience you have.
Don't use too many industry-specific words as this may put people off, if in doubt, keep it simple.
Finally it doesn't hurt to add customer feedback to share with why people should buy from you.
Related link: How to Create a LinkedIn Account
Set up a Google My Business page
If you are a local business a Google+ Local business account is a must. Remember to include the primary keyword.
Related link: How to add or claim your business listing
---
Administration
Understand basic marketing and accounting terminology
Gett to grips with some of the key business numbers you should be looking after each month.
Users
The number of unique people who visit your website
Leads
Number of people who ask about buying your product or service
Orders
Number of people who buy your product or service
Conversion Rate
Difference between your leads and orders in percent
Income
Total value of all your orders
Average Order Value
Total income divided by number of orders
Cost
Anything you've spend (wages, advertising, raw materials etc) to make your product or service
Profit
Income minus any costs you've incurred
Set up a spreadsheet to log your business numbers
Keeping a regular log of your orders, income and profit is a good way to understand if you are heading in the right direction to meet your objectives.
Download our example spreadsheet to get you started
Related link: Example marketing spreadsheet
Book a FREE marketing support call
Book a free thirty minute call worth £50 with Ben, our resident 'know-it-all' to get your marketing off to a flying start.
During the call he'll find out a little more about you, your business and what you hope to achieve, then suggest some simple actions that will make a meaningful difference to your business and energise your marketing mojo.
---
Note that the call will be discounted in full on the checkout page. You will not need to pay anything at all and only need enter your name and address details. If you have any questions before you go ahead you can use the 'Ask us a question' link below.
Promoted: Book your free support call
Foundation stage complete 🎉
Congratulations! You've got all the building blocks in place.
Next, let's level up your marketing and make some progress on your objectives. Join my Marketing Club to access to the next level of the Marketing Checklist.