To watch the full video and get access to all previous videos and resources join my Marketing Club - Get free access for 30 days
We are joined by WordPress Security Expert, Tim Nash, who will talk through a recent security and performance audit on our website sharing advice on how we can protect and speed up WordPress.
(more…)
To watch the full video and get access to all previous videos and resources join my Marketing Club - Get free access for 30 days
Ben guides us through a checklist he uses on our client sites to make sure they are fast, secure and ready for action.
(more…)
Clare Harris
November 2, 2021
To watch the full video and get access to all previous videos and resources join my Marketing Club - Get free access for 30 days
From logging in to editing a page and posting a blog article Ben takes you step by step through setting up your WordPress website.
Notes
Related content
Why WordPress?
Can get started for free on WordPress.com
Completely flexible when self managed
Plugins give it flexibility
Best control over SEO
Powers over 40% of the worlds websites
Used by global brands
Active community
Ben Kinnaird
December 31, 2019
Advice and guidance on how to maintain, develop and drive more traffic to your WordPress website.
Save tears and backup your site before making any changes. If you don't feel confident about making any of the recommended changes yourself, consult with your web developer, techie friends or get in touch, we'd be happy help.
(more…)
A client recently asked for our recommendation on which website chat app to use and as I've only have experience with Olark in recent years I thought it would be worth reviewing what's currently available.
I picked five listed below based on whether they were recommended elsewhere, if I'd heard of them before or on the clarity of the offer and the systems design. I evaluated each chat app as a potential customer chatting to the vendor's operator judging each on how quickly I got chatting, if I was hounded at all to begin with, what integrations they had and of course the cost. Hopefully this will give you a little more information to refine down your selection to test out.
Summary: JivoChat and Olark stuck out for me as a cost effective way to get started but Zendesk looks like a good step up to a fuller chat and customer support system with better integrations when time and budget allow.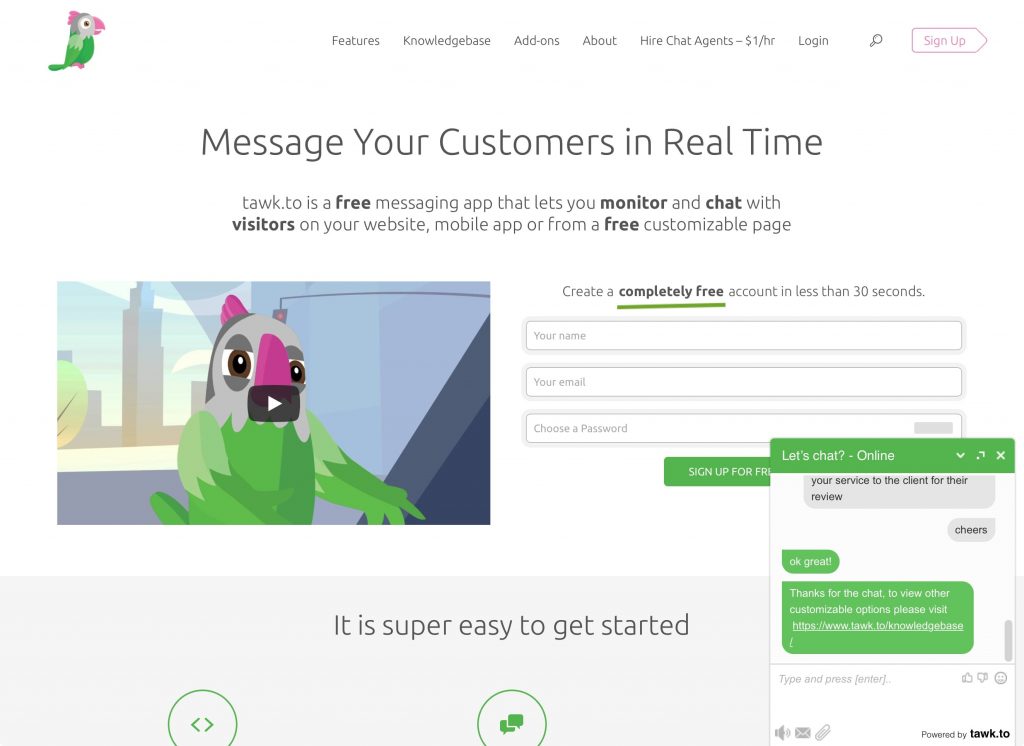 Tawk.to
Chat only. Free with option to pay for branding removal or chat agents
Need to enter email/name to start chat
Admin is browser only as far as I can see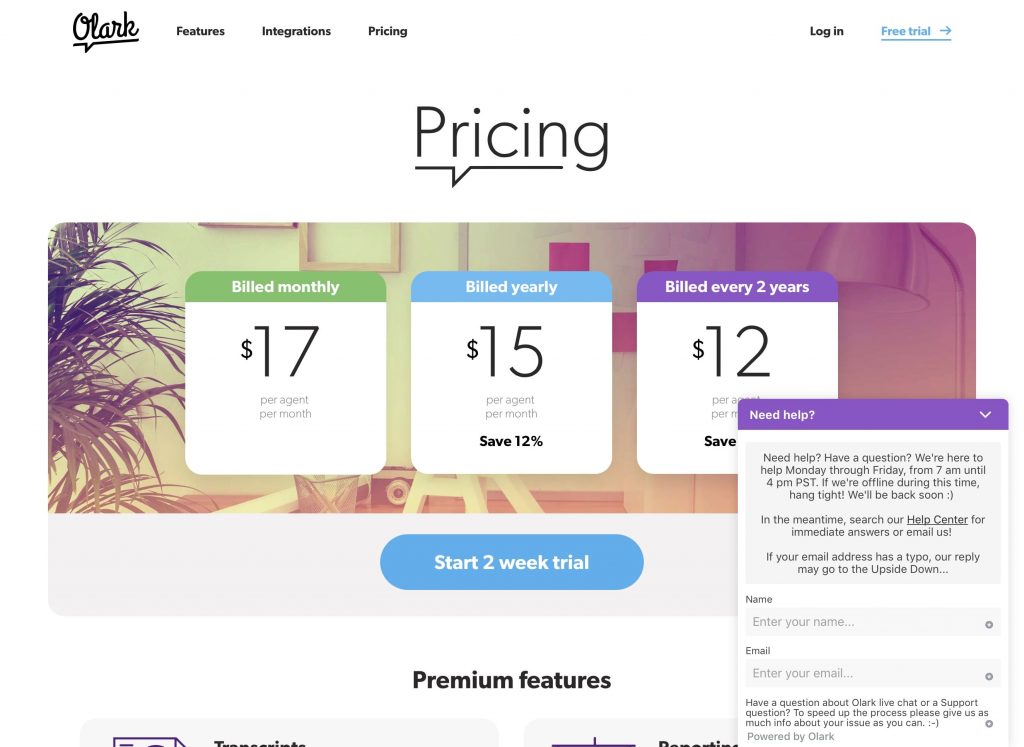 Olark
Chat only from £12/mo/agent but have free plan capped at 20 chats/month
Automated messages to start conversations based on rules such as referring URL or location
Message templates for quicker responses
Integrates with many CRM apps
Needed to enter email/name to start chat
Exit survey and ability to send copy of the transcript by email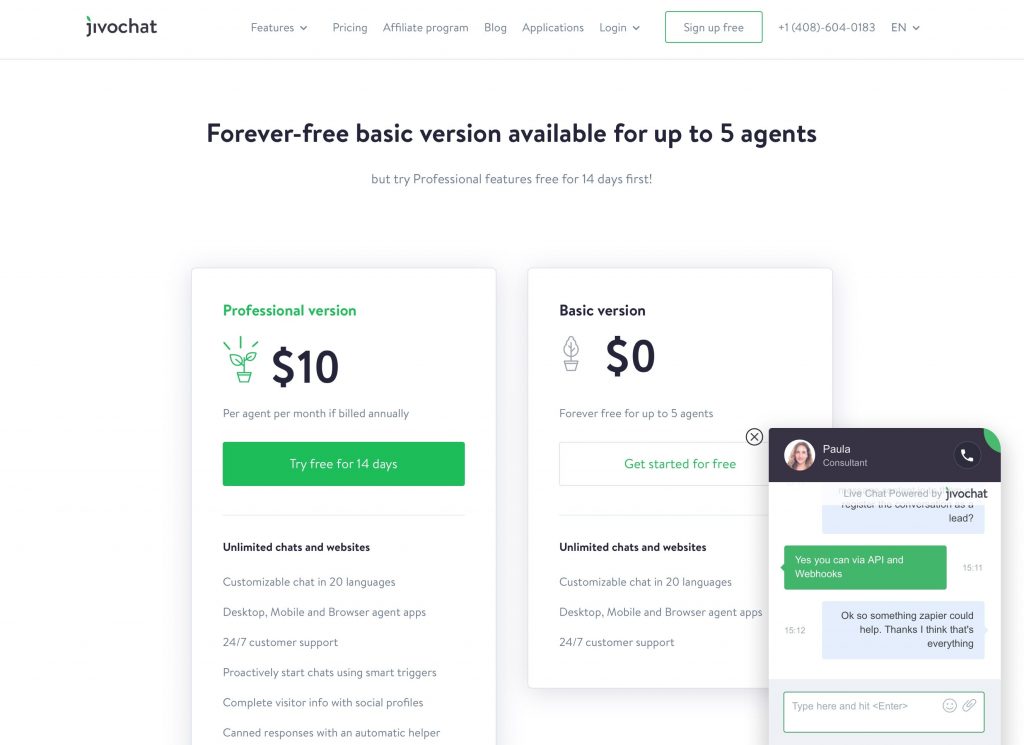 JivoChat
https://www.jivochat.com/pricing/
Basic version free for 5 agents. Pro version (£7/mo/agent) includes canned responses with some automation message automation
No questions to start the chat, was initiated by operator
Have desktop and mobile apps as well as browser app
Have API/Webhooks
Simple exit survey to capture sentiment (thumbs up or down)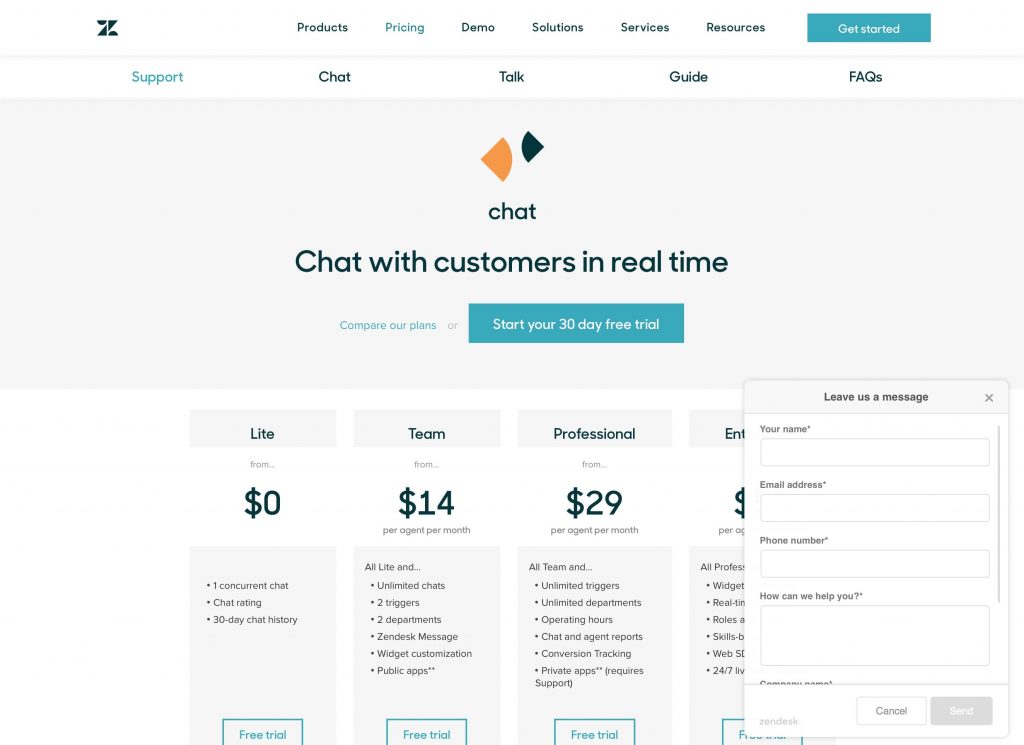 Zendesk
https://www.zendesk.co.uk/product/pricing/
Chat from £12/mo/agent
Email software £5/mo/agent. Includes basic Knowledge base/FAQ system
Optional Answer bot from £38/mo/50 queries
Chat box doesn't pop up automatically. Not able to test out the chat feature
Mobile and browser apps from what I can see
Have API/Webhooks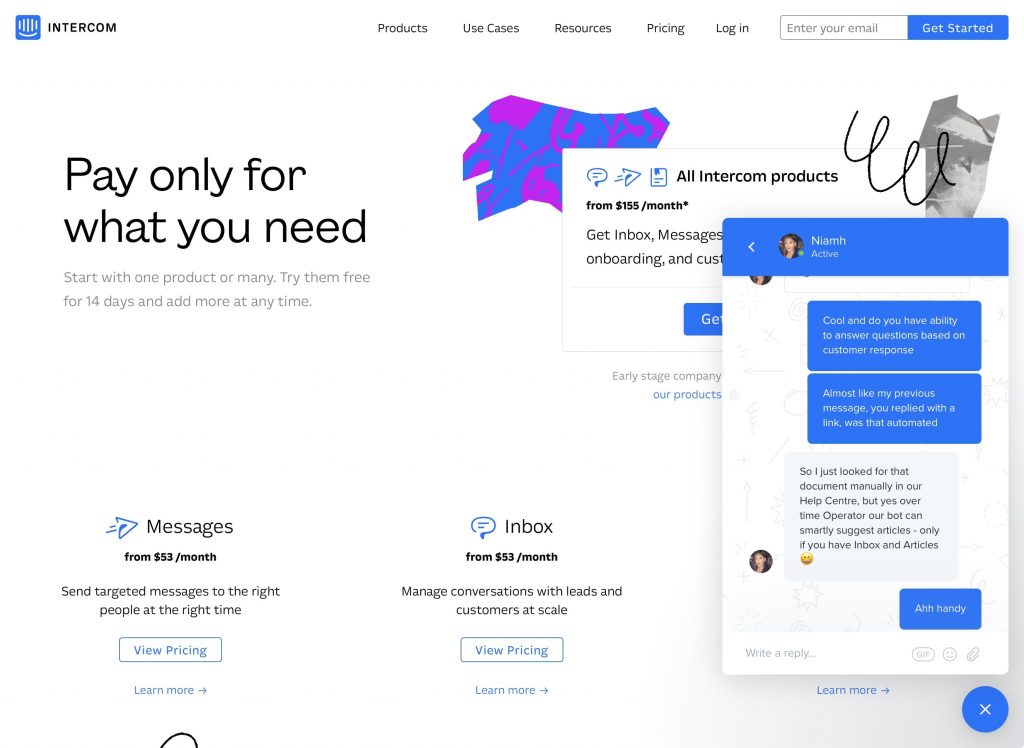 Intercom
https://www.intercom.com/pricing
Chat from £38/mo unified comms inbox to manage chats. Can also manage social (Twitter/Facebook) direct messages
Help document/FAQ management £35/mo. Includes an operator bot to surface relevant content
Initial bot interaction asked for name/email/company/employees. Seemed slightly slower process to other companies
Chat box didn't pop up automatically
Mobile and browser apps
Have API/Webhooks
Let me know which chat apps you use or the experience you have using them on other websites
catherineevery
June 18, 2012
Here at Rather Inventive we build our websites using a tool called WordPress. It offers lots of benefits, but perhaps the most important of them is how easy it is to use. In terms of adding, moving and removing content, just half an hour of training will get you going. It means that once we've built your website, you can really take ownership of it and develop it over time. It also means you don't need to pay anyone to maintain it because you can look after it yourself.
(more…)