Case study: Dangling Carrot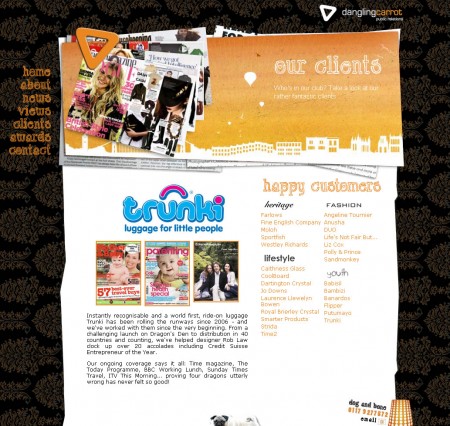 Dangling Carrot are a dynamic PR company specialising in fashion, youth and lifestyle products and services. Based in Bristol, they have some very well known clients including Laurence LLewelyn-Bowen, Trunki, Dartington Crystal and Barnardo's.
Working with Seed Brand, a Bristol based design and branding agency, we helped create a funky, vibrant website that echoes the ethos of 'Team Carrot'. Kept up to date by the team themselves using an online Content Management System (CMS), the site is always different on each visit with news articles, latest awards and more. The homepage also incorporates an inventive way to display recent publications showcasing their clients' products – which is easy to update and adds insterest and interaction to the site. A blog highlighing latest trends in their business sector further helps the site to stand out from the crowd and reflects the qualities and personality of the team online.